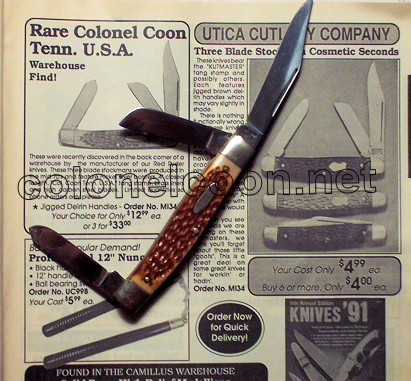 This page is for new information on Colonel Coon I have discovered.
My newest discovery involves a picture of some lost Colonel Coon knives found in a warehouse. Most everyone thinks these knives were counterfeit when in fact they are not. Please read what Adrian A. Harris (Colonel Coon) says about the history of these knives.
Around 1980, I was trying to get Tennessee Knife Works off the ground and have enough capital to go into box making, insert making, and chemical milling. Since the "Old Cutler" line was selling good at the time (because it was well made and cheap). The "Old Cutler" had a good thick blade, 1090 tool steel, and the handles were solid delrin. On a joint venture (between Al and myself), we made 1,000 of these knives with the tang stamp Col. Coon, Tenn. U.S.A. (I already had this stamp). I had met with their sales rep and the idea was to sell these knives to the local hardware stores for an inexpensive "using" knife. These knives were made in Providence, RI by Colonial Knife Co. and I was going to distribute them through Tennessee Knife Works. They were not marketed as being made in Tennessee, but as being distributed by Tennessee Knife Works. At the time, there were a lot of knives coming in from Japan and selling for a cheap price. My idea, was to have an American made knife that would be in competition with these. I also thought I could sell more than the Old Cutler brand. I am sorry to say, they did not sell. The ones that did, I think were used because we only made 1,000 of these (some with white handles) and there are very few around now.
---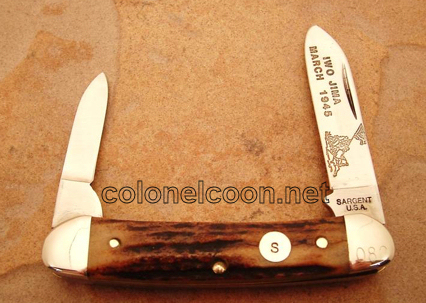 Colonel Coon Jim Sargent Iwo Jima Canoe Stag Knife #082
Here is a knife I found that has no evidence of being a Colonel Coon anywhere on the knife but the eBay listing claimed it was made by Adrian A. Harris. This is true please read what Adrian A. Harris (Colonel Coon) says about the history of these knives
I made the "Iwo Jima" knife for Jim Sargent sometime around 1981. As per his request, there is no mention of Colonel Coon on the knife. We did make a box with a Iwo Jima label. I think we put the new "Old Sarge" logo on it. I forgot. I do remember we made 500 of these.