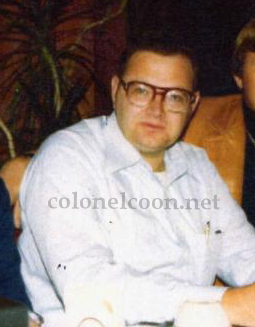 Adrian A. Harris
Founder of Tennessee Knife Works
The Early Years
Colonel Coon Knives were made by Adrian A. Harris, Mr. Harris started making fixed blade knives as a hobby in the 60's, in 1976 he became the only authorized field repairman in the U.S. for Schrade, a few months later he became the only authorized repairman for Kissing Crane and J.A. Henckels in the United States, in 1978 he founded Tennessee Knife Works Inc. in his home town of Columbia, Tenn. and began making Colonel Coon Knives the old style a true bench made or handmade pocket knife, In 1980 he devised his own chemical milling process for custom etching the blades, along with this he developed a packaging process which included a hinged paper box which is still being used today. By offering this packaging system and custom etching to knife dealers this help start the trend of " the commemorative knife " In 1988 he sold his manufacturing processes to W.R Case & Sons and retired.
Thanks to yerout for contributing the above information.
Click to show expanded images
Book Knife Repair and Restoration by Adrian A. Harris
The Comeback
In 2006, Smokey Mountain Knife Works purchased the Colonel Coon name and the brand was soon reintroduced. The more recent Colonel Coon Knives are factory manufactured models that come out of the Queen factory under liscence by SMKW.
source: www.allaboutpocketknives.com
1982 Vintage Blade Magazine Article
1982 National Knife Collector Magazine Article
Knife World Magazine 1979
Special thanks to Colonel Coon for providing this article!
1980 Colonel Coon Brochure
Special thanks to Barry Gordon!
This brochure is now listed on Ebay for sale. Link courtesy of colonelcoon.net